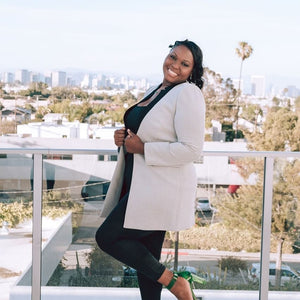 Affirmations and Self-Love by Denise Hill
Have you ever accepted less than you deserve from a significant other, family member or even yourself? Have you ever asked why did I allow this? There are a variety of reasons or answers to these questions. I want to elaborate on one in particular, the lack of self-love. When you love yourself you only accept others in your life who value you and treat you with
respect.

What is Self-Love?

Self-love means appreciation of one's self, to have high regard for your own mental and physical well-being. You take care of your own needs without having to sacrifice for others. Self-love is NOT selfish. Figuring out self-love is most important for your mental health.

As a child up until my early twenties I had a huge gap between my two front teeth. Hey, nothing against gaps and the people who love them. For me, having a gap made me feel insecure and not pretty enough. My Mom was a single mother raising three daughters, so braces were not on her list of priorities. I was able to afford braces myself in my late teen years and OMG you couldn't tell me NOTHING once I had my braces removed. I smiled unapologetically with confidence for the first time in my early twenties. I loved my smile and begin to love me even more. Okay I know that some may say the beauty within is more important but honestly fixing my gap did make me feel beautiful inside.

My second boosts of confidence came in my early thirties when I chose to stop using relaxers/perms on my hair. I decided to embrace my natural curls/kinks. Growing up as a little black girl with short "nappy" hair, monthly relaxers happened religiously in our household. Society and my peers made me feel unpretty if my hair wasn't straight and long. So as a teenager I added extensions in my hair and probably overly relaxed my hair to make sure it looked perfect to me. I definitely didn't come to this ah ha moment about going natural on my own. My hairdresser Dede at West of Heaven studios in Culver City, CA specializes in natural hair and made the suggestion. I took her advice and made the transition from the "nappy" black girl to the happily natural woman. Now when I wear my hair straight or add extensions it doesn't define who I am. I rock it because I want to not because I have to. This transition birthed our Black Natural and Beautiful collection within our Inspirational Affirmation Apparel brand.

What are Affirmations?

Affirmations are statements that affirm something to be true. Using inspirational positive affirmations firmly declare positive outcomes in our daily lives. These days negativity and bad news sells, but it doesn't help you live longer.

I recently watched Mary J Blige's "My Life" documentary. She talks about her battles through depression, lack of self-love, and gaining new confidence and love for herself as she grew older. Her documentary reminded me of why my husband and I started our inspirational affirmation apparel line.

In 2014, my husband and I realized that our son wasn't happy in school. Our son was receiving some not so nice remarks from his peers. Searching for ways to increase his self-love and confidence, we had the idea to print shirts with inspiring affirmations. From my experience as a young girl and my sons experience, I believe it's important to instill confidence and self-love into others as early as possible or needed. I believe when you love yourself, you make healthier choices throughout life about who and what you allow to be present in your life.
---
3 comments