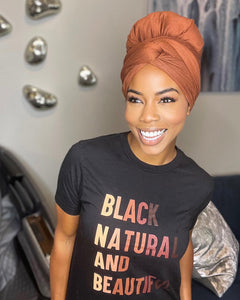 "P-Valley" Star Brandee Evans is Black Natural and Beautiful by Denise Hill
If Black Natural and Beautiful was a person, P-Valley Star Brandee Evans aka "Mercedes" represents our affirmation perfectly!
Brandee epitomizes the affirmation "Black Natural and Beautiful", her radiant brown skin tone, natural curls, and beauty inspires women of color. Brandee's natural hairstyles have rocked some of the hottest red carpets and award shows this year. Brandee's fans me included are impatiently waiting for Season 2 of P-Valley which was renewed for a second season and will air on STARZ in 2022.
Representation matters and I love seeing "Hollywood" finally giving Black actors and actresses more chances to be seen on the big screens and telling our stories. More recently you can see more women of color with natural hair who look like Brandee, you, and me in commercials, the covers of magazines, movies, and TV shows. 
Our Black Natural and Beautiful Collection was created to empower women of color to embrace their natural kinks and curls. As a woman of color with natural hair, and let's be honest natural hair is not the easiest to manage, it was important for us to express this powerful affirmation through our apparel.  
Black Natural and Beautiful is not just an affirmation but a movement to encourage men and women of color to love and embrace their natural beauty.
---